April 17th, 2016

Dr. Fell and Dr. Borenstein believe retainers are the most important part of orthodontic treatment. Wearing your retainer as directed is essential for maintaining that beautiful new smile forever. In our office, we usually advise full-time wear for 6 months after treatment followed by night-time wear. Retainers are a lifetime thing - many patients and parents are shocked by this, but our bodies are extremely dynamic and in order to keep those teeth in place, something needs to hold them.
Together, We Will Find the Retainer That Suits You Best
Choosing which type of retainer is right for you can depend on where your teeth started before treatment (teeth have a tendency to move back to where they came from), your level of oral hygiene, whether or not you grind your teeth, your personal preference, etc. Depending on your unique situation, we will recommend the type of retainer that will be best for you and your lifestyle.
Retainers Come in Three Basic Types

1. The Hawley Retainer: has an acrylic body with a metal wire that goes around the teeth.
This is the most popular type of retainer and definitely the most durable.
It is removable and can be adjusted if minor tooth movements are necessary.
You can customize it by choosing whatever color suits your personality.
2. The Essix Retainer: (The "Clear Retainer")
Another type of removable retainer that looks more like an Invisalign tray than a traditional retainer. It is made of thin, transparent plastic designed to fit precisely over your teeth.
People love the Essix retainer because it is not as visible as the Hawley.
This can be a great option for people who grind their teeth.
You cannot eat or drink anything except water with this retainer in.
They need to be replaced every few years.
3. The Fixed Retainer: a wire glued to the tongue side of the lower (and sometimes upper) front teeth.
We tend to recommend this option to all patients for their lower front teeth so long as their oral hygiene can tolerate the extra care this retainer requires.
Since this type of retainer only holds the front teeth, we will still usually recommend having a clear retainer to wear over this retainer at night to hold the back teeth in place.
Whatever retainer you choose, the most important thing you can do is wear them as directed by your orthodontist and clean them regularly!
Keep Your Smile Straight and Your Bite Perfect
By wearing your retainer, you can make the transition from braces to a permanent, healthy smile! If you have any questions about the kinds of retainers we offer or their maintenance, give us a call or come in to see us! We're always happy to see our awesome patients.
Thank you for everything!
The content on this blog is not intended to be a substitute for professional medical advice, diagnosis, or treatment. Always seek the advice of qualified health providers with questions you may have regarding medical conditions.
March 31st, 2016

INVISALIGN ISN'T THE PERFECT SOLUTION FOR EVERYONE, BUT if you're a good candidate, there are LOTS of reasons for choosing Invisalign—and they're not all simply about going metal-free!
Clear, removable Invisalign trays are a less invasive orthodontic treatment method. With Invisalign technology, your teeth can be straightened without causing inconveniences to your daily life.
Benefits You Probably Didn't Expect:
The most obvious difference between Invisalign treatment and braces is their appearance, but there's more to it than that. For example...
1. The removable trays allow you to brush and floss normally, which results in better oral health during treatment.  (This is what Dr. Fell and Dr. Borenstein think is one of the most important advantages Invisalign has over braces.)
2. You can enjoy eating all foods, without the dietary restrictions of braces.
3. The smooth plastic trays are more comfortable, so you won't deal with the irritation metal brackets sometimes cause.
4. Fewer office visits. We'll see you approximately every 6 weeks, and sometimes only once every 3 months for patients who are away for school or who don't live locally.
5. Less Emergencies – there is less chance of a patient breaking a bracket causing an orthodontic emergency.
6. Invisalign trays can sometimes double as whitening trays or protective mouth gear for sports.
7. Protection against grinding – Invisalign can help prevent the damage that grinding and clenching can have on the enamel of your teeth.
Is Invisalign Right For You?
At your first Invisalign consultation appointment, Dr. Fell or Dr. Borenstein will do a thorough exam to see if you are a good candidate for Invisalign.   An intraoral scan of your teeth can show you a simulation of how your teeth will look after movement with Invisalign. Dr. Fell or Dr. Borenstein will evaluate your teeth and orthodontic records to determine the perfect set-up to give you the best esthetics AND the best function of your teeth. A healthy smile is more than just pretty teeth!
We know you have multiple options when choosing a doctor to do your Invisalign. Make sure to choose an orthodontic specialist with the experience and appropriate training to give you both good form and function!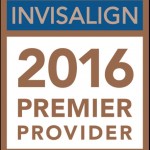 Dr. Fell and Dr. Borenstein are the only Invisalign Premier Providers in Culver City, California.
Schedule a complimentary initial exam at Culver City Orthodontics to see if Invisalign is a good option for you: 310-837-5900
Thanks in advance for your trust. We hope to see you soon!
March 24th, 2016
Thank you for taking the time to visit our blog. Please check back often for weekly updates on fun and exciting events happening at our office, important and interesting information about our orthodontics, the dental industry, and the latest news about our practice.
Feel free to leave a comment or question for our doctors and staff - we hope this will be a valuable resource for our patients, their families, and friends!