Early Orthodontic Treatment for Children
Click here to read what the American Association of Orthodontists says about Early Orthodontic Treatment
What is the difference between early orthodontic treatment and regular orthodontic treatment, and why might my child need early treatment? How will early treatment benefit my child in the long run?
These are just a few of the questions surrounding the topic of early orthodontic treatment for children. The American Association of Orthodontists recommends that children see an orthodontist as early as age seven. At this point the orthodontist will evaluate whether your child will need orthodontic treatment.
Early treatment (also known as Phase One) typically begins around age eight or nine (Phase Two will begin around age 11 or older). The goal of early treatment is to correct the growth of the jaw and certain bite problems, such as underbite. Early treatment also helps to make room for permanent teeth to come in properly, lessening the chance of extractions in the future.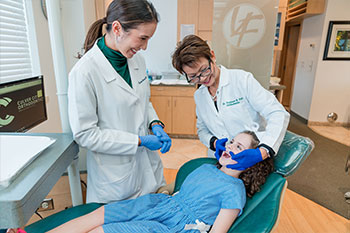 How to tell if your child may need early orthodontic treatment:
Early or late loss of baby teeth (your child should typically start losing teeth around age five, and will have all permanent teeth around age 13)
Difficulty chewing and/or biting
Mouth breathing
Your child continues sucking his or her thumb after age five
Speech impediments
Protruding teeth (the top teeth and the bottom teeth extend away from each other)
Teeth that don't come together in a normal manner or even at all
Shifting of the jaw when your child opens or closes his or her mouth (crossbites)
Crowded front teeth around age seven or eight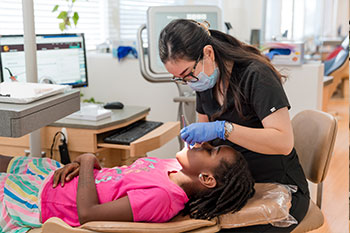 What causes orthodontic problems, and how will early treatment benefit my child?
Orthodontic problems such as crowding of the teeth, too much space between the teeth, jaw growth problems, protruding teeth, and bad bites can be inherited or caused by injury to the mouth, early or late loss of baby teeth, or thumb-sucking habits.
Most children lose all their baby teeth by age 13, and by the end of their teen years, the jaw bones will harden and stop growing. Orthodontic procedures for adults often take more time and can involve tooth extraction or oral surgery. Receiving early orthodontic treatment as a child can help prevent the need for orthodontics as an adult, leaving little to no chance of extraction or surgery in the future.
If your child is between the ages of seven and eight and shows signs of needing orthodontic care, or if you have been directed by your family dentist to visit the orthodontist, please contact our practice and schedule an appointment. Our team will provide your child with an initial exam, and discuss with you the best steps to take toward caring for your child's smile.
---
Two-Phase Treatment
Two-phase orthodontic treatment is a specialized process that combines tooth straightening and physical, facial changes. The purpose of two-phase treatment is to maximize the opportunity to accomplish the ideal healthy, functional, and aesthetic result that will remain stable throughout your child's life.
What if treatment is put off?
Putting off treatment can result in a need for more invasive treatment later in life that may not completely fix your child's smile. Early treatment is most effective for achieving lasting results.
Phase One
A Foundation for a Lifetime of Beautiful Smiles
The goal of Phase One treatment is to help the jaw develop in a way that will accommodate all of the permanent teeth and improve the way the upper and lower jaws fit together. Children often exhibit early signs of jaw problems as they grow and develop. An upper jaw that is growing too much or is too narrow can be recognized at an early age. If children over the age of six are found to have this jaw discrepancy, they are candidates for early orthodontic treatment. Also, if children around the age of eight have crowded front teeth, early treatment can prevent the need to extract permanent teeth later.
Planning now can save your child's smile later

Children benefit tremendously from early-phase treatment. Receiving early treatment may prevent the removal of permanent teeth later in life, or the need for surgical procedures to realign the jaws.

Making records to determine your child's unique treatment

Orthodontic records will be necessary to determine the type of appliances to be used, the duration of treatment time, and the frequency of visits. Records consist of models of the teeth, X-rays, and photographs. During your child's initial consultation, the doctor will take records to determine if early treatment is necessary.
Resting Period
In this phase, the remaining permanent teeth are left alone as they erupt. Retaining devices may not be recommended if they would interfere with eruption. It is best to allow the existing permanent teeth some freedom of movement. A successful first phase will have created room for permanent teeth to find an eruption path. Otherwise, they may become impacted or severely displaced.
Monitoring the teeth's progress

At the end of the first phase of treatment, teeth are not in their final positions. This will be determined and accomplished in the second phase of treatment. Selective removal of certain primary (baby) teeth may be in the best interest of enhancing eruption during this resting phase. Therefore, periodic recall appointments for observation are necessary, usually on a six-month basis.
Phase Two
Stay healthy and look attractive
The goal of the second phase is to make sure each tooth has an exact location in the mouth where it is in harmony with the lips, cheeks, tongue, and other teeth. When this equilibrium is established, the teeth will function together properly. Phase Two usually involves full upper and lower braces.
At the beginning of the first phase, orthodontic records were made and a diagnosis and treatment plan was established. Certain types of appliances were used in the first phase to correct and realign the teeth and jaw. The second phase begins when all permanent teeth have erupted, and usually requires braces on all the teeth for an average of 24 months. Retainers are worn after this phase to ensure your child retains his or her beautiful smile.
---
Invisalign® First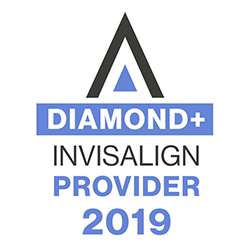 Phase One Treatment with Invisalign First
Invisalign First clear aligner treatment is a type of Phase One treatment in growing children. It aligns the teeth while expanding the arches and making room for existing teeth and incoming permanent teeth.
Phase One treatment with Invisalign First may be used to:
Correct and guide the growth of your child's jaw
Regulate the width of the upper and lower arches
Create more space for crowded teeth
Avoid the need for permanent tooth extractions during Phase Two treatment
Correct thumb sucking and help improve minor speech problems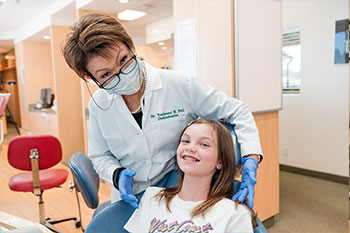 Invisalign First Treatment
Initial Scans
Invisalign First treatment starts with a simple scan or impressions. From there, every step of your child's plan is digitally plotted, so you know what to expect.
The Aligners
Removable aligners mean there's little interruption to your child's life and the foods they love. Plus, the aligners are specifically designed to fit smaller teeth and with space to accommodate teeth that are growing in.
Smart Shifts
As they progress through their treatment, you'll see their smile transform through a series of small, expertly designed shifts calculated for how little teeth should move.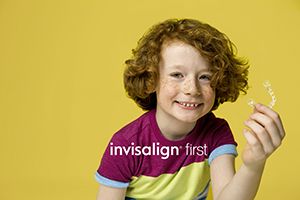 Why Invisalign First?
Types of Treatment: Invisalign First clear aligners can fix a broad range of teeth straightening issues, including crowding, spacing, and narrow dental arches.
No Food Restrictions: With Invisalign First clear aligners, there's no missing out on popcorn at the movies. Children can continue to eat what they want.
Easy Hygiene: Growing children can continue to brush and floss without hassle, keeping their good hygiene habits on track.
Proven Experience: When your child gets Invisalign treatment, they're in great company. Invisalign technology has transformed more than 5 million smiles worldwide.
Turn their little smile into a big, beautiful one. Speak to our doctor today about Invisalign First treatment.
Invisalign and the Invisalign logo, among others, are trademarks of Align Technology, Inc., and are registered in the U.S. and other countries.
---
Growth Modification Appliances
Palatal Expander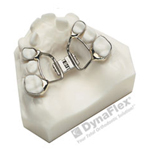 The palatal expander "expands" (or widens) your upper jaw by putting gentle pressure on your upper molars each time an adjustment is made. The animation below will instruct you about when and how to adjust your expander. When you achieve the desired expansion, you will wear the appliance for several months to solidify the expansion and to prevent regression.
Adjusting the palatal expander
You can also download these instructions in a printable PDF document.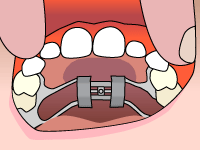 Step 1
In a well-lit area, tip the patient's head back.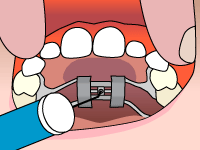 Step 2
Place the key in the hole until it is firmly in place.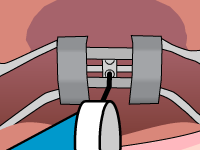 Step 3
Push the key toward the back of the mouth. You will notice the fender will rotate and the new hole will appear. The rotation stops when the key meets the back of the expander.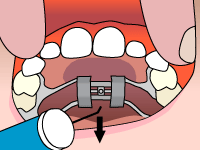 Step 4
Press back and down toward the tongue to remove the key. The next hole for insertion of the key should now be visible.
---
Headgear
Headgear is used to treat patients whose teeth are in an overbite, with the upper jaw forward of the lower jaw, or an underbite with the lower jaw forward of the upper jaw. Headgear gently "pulls" on your teeth to restrict further forward growth of your upper teeth and jaw.
---
Twin Block Appliance
The twin block appliance is unique from other functional appliances, as it involves two separate appliances (one for the upper arch and one for the lower arch) working together to create an advanced lower jaw position. This patient-friendly appliance is worn full time, including while eating, though it is removable for easy hygiene. It is also more comfortable than other jaw-correcting appliances, as it is made out of smooth acrylic and utilizes fewer wires.
The result of using a twin block appliance is a broad, beautiful smile, proper jaw function, improved profile, and a stable and healthy temporomandibular joint.